SURFING


Surf report

Photo credits:
Surfer at Hoebuck
by John Gussman

Shi Shi Wave
by Randall Tomaras
Sunset Surf at Shi Shi
by Randall J Hodges
---

Surfing isn't always the first thing that comes to mind when you think of Washington...
. . . but with three sides of water surrounding the Olympic Peninsula and moderate temperatures year-round, the popularity of surfing is growing by leaps and bounds.

Think of the Olympic Peninsula water as two zones: the Strait and the Coast.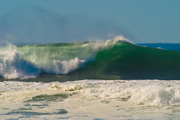 Along the Strait of Juan de Fuca, there are several accessible areas to surfing ― most creek or river mouths have rideable waves under the right conditions. Because the mouth of the Strait is so narrow (32-40 miles wide) and faces northwest, it has a limited swell window. Yet when a northwest swell of nine-plus feet rolls in, the surf is up along the Strait.

Traveling from east to west, some of the more popular surfing areas accessed by Highway 112 are Crescent Beach, with both public and private (day use fee) access and the public beach area at the mouth of the Twin Rivers.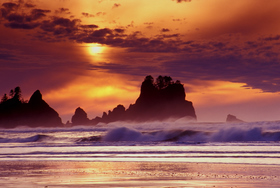 The best spots on the coast side are just outside of Neah Bay at Hobuck Beach. La Push, due south of Neah Bay, is another popular spot. In winter, the coast can be hit with strong winds or stretches of calm. Spring is windy and unpredictable. Summer is fun, small or flat.

More Info:
Local information about the best surf spots can be found by stopping in at any of several surf or kayak shops in the Port Angeles area. Be sure to check not only about the surf, but also about treacherous rip tides that occur fairly often. Stay on public beaches, and if surfing at Hobuck Beach on the Makah Indian Reservation, be sure to stop in at one of the many outlets to purchase a recreation permit (nominal fee).

Crescent Beach and RV Park - for use of the private beach and campground