KAYAKING & RAFTING
Surrounded by Water
The Strait of Juan de Fuca and the area's many freshwater lakes and rivers are a mecca for water sports enthusiasts. For kayakers, there are oceans, rivers and lakes for every ability. Surf your boat at the mouth of the Elwha River, or paddle to a secluded cove on the Strait. Stand-up paddle boarders can be found checking out many kayaking hot spots. Guided rafting trips down the Elwha River offer another way to explore the beautiful area and an opportunity to witness first-hand the changing Elwha watershed.
More Info:
Olympic Peninsula Paddlers

Elwha River
The Elwha River is a class 2+ whitewater river in Olympic National Park. Check ONP park website for access, rules, and regulations.
Directions:
There are several places along Highway 112 to view and access the Elwha River, but for whitewater kayaking and rafting, the river is best accessed from Olympic National Park (park pass required).

More Info:
For a description of the river, flows and levels view the Elwha River at American Whitewater.


Freshwater Bay
Kayakers can check out all the different types of seaweed, algae and marine life found in this lovely bay. They can also go west along the bay and check out many beautiful coves. On a clear day, kayakers can look across the water and see Vancouver Island and Mt. Baker. If paddlers are up for it, they can travel all the way to Salt Creek/Crescent Beach! The bay is also great for stand-up paddle boarding. The area is fairly shallow and is protected so the water stays relatively calm.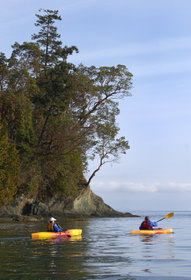 Directions:
From Highway 112 at Milepost (MP) 57 turn north onto Freshwater Bay Road. Follow for about 2.7 miles to the county park, boat ramp and beach.
More Info:
Clallam County Freshwater Bay - park facilities information.

Salt Creek/Crescent Beach
Salt Creek/Crescent Beach is great for kayaking and popular with surfers and stand-up paddle boarders as well. This family friendly area is also home to world renowned tide pools, views, and historic WWII bunkers. Salt Creek is a great weekend getaway with its large campground and RV facilities. A private beach and campground is located on the west end of Crescent Beach and a special day use pass is needed.
Directions:
From Highway 112 at Milepost (MP) 53.8, turn north on Camp Hayden Road. Follow for about 3.5 miles to the county park entrance.
More Info:
Tide schedule
Clallam County Salt Creek Recreation Area - park facilities and campground information
Crescent Beach and RV Park - for use of the private beach and campground
The Twins
This stretch of beach bordering Highway 112, is where the West Twin River and East Twin River meet and flow into the Strait of Juan de Fuca. On a calm day, even beginner stand-up paddlers and kayakers have a great time here, and when the surf is up it's a hot spot for local surf kayakers and surfers.
Directions:
Located off of Highway 112 at MP 38.


Clallam Bay Spit and Slip Point Beach

The Clallam River empties into the Strait here, causing a dynamic hydrology interaction and nutrient-rich water that provides shore and marine life with constant food sources. This is a great place to go out to kayak or surf if the waves are right, and it's also great for beachcombing and watching for marine life and birds.
Directions:
Clallam Bay Spit and Slip Point Beach are located at MP 17.

More Info:
Clallam County Clallam Bay Spit Park


Shipwreck Point
The last stop off of Highway 112 is Shipwreck Point. It is also one of the last easily accessible beaches between Port Angeles and Neah Bay. There are multiple pull outs to get you to this beach, so don't miss out! Kayakers come here to enjoy a beautiful, mild paddle.
Directions:
Located off of Highway 112 at MP 6.


Lake Ozette
Travelers will find the northwest entrance to Olympic National Park's 57 miles of coastal wilderness at Lake Ozette. At 7,787 acres, Ozette is one of the largest natural lakes in Washington, with 57 miles of shoreline, and is very deep, at over 300 feet. Campgrounds dotted around the lake invite you to picnic, fish, swim, canoe or kayak to the many islands. On Lake Ozette, Erickson Bay Campground can only be reached by boat. Boat launches are available at Swan Bay, Rainier Landing or the campground near the Olympic National Park Ranger Station.
Directions:
From Highway 112 just past Sekiu at MP 12.53, turn southwest onto the Hoko-Ozette Road, follow 21 miles to the Ozette Ranger Station.

More Info:
Olympic National Park (park pass required)



Neah Bay
There are several paddling options for experienced sea kayakers and surf kayakers on the Makah Indian Reservation. Cape Flattery is the most northwest corner of the contiguous United States. Its sea caves, wildlife and isolation make it one of the most remote and awesome paddling experiences one could ever imagine. Hobuck Beach is known for surfing and surf kayaking.
Directions:
The Makah Indian Reservation in Neah Bay is at the far western end (MP 0) of Highway 112.

More Info:
A Makah Recreation Pass must be purchased in Neah Bay prior to arriving at trailheads.