MUSEUMS
Joyce Depot Museum
The Joyce Depot Museum stands one block
east of the Joyce General Store. This historic log cabin-style train station was built in 1915 by the Chicago, Milwaukee and St. Paul Railroad. The tracks ran in front of the Depot, and the train service allowed passengers, freight and logs to move between Deep Creek to the west and Port Townsend to the east. The WWI-era Spruce Railroad, built in 1918, branched off from this track, west of Joyce.
Passenger service ended in 1930, and the track was thereafter used exclusively for bringing logs from the west into Port Angeles and points east. In 1951 rail service ended, and logs were transported by trucks from then on.

The Depot is now open to the public as a local history museum, housing many artifacts, photos, maps and documents from by-gone days in the Joyce area.

The Depot is open Memorial Day through Labor Day, Mon., Thurs., Fri., Sat., 10am-4pm. The rest of the fall, winter and spring Sat. only, 10am-4pm.


Makah Museum
The Maka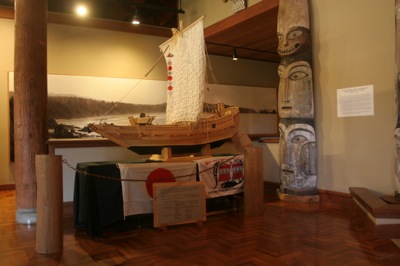 h Cultural and Research Center is world-famous and world-class. Many of the items in the museum are from the "Ozette Dig," which yielded Makah artifacts from a village partially buried in a mudslide in the 1500s. The Ozette archeological collection is the largest pre-contact Northwest Coast Indian collection inthe country. Whaling, sealing and fishing gear, basketry and replicas of a 60-foot cedar longhouse and oceangoing canoes are displayed. The Center also houses the Makah language program, working to preserve and teach Makah language and culture.
There are 18 showcases, 3 dioramas and full-sized replicas of canoes and a longhouse.
The showcases interpret Makah culture and history through artifacts, text and photographs.
Open 7 days a week
Phone 360-645-2711
Website: Makah Museum