BICYCLING
Mountain Biking
There are several all season mountain bike areas accessible from the Strait of Juan de Fuca Scenic Byway.
Olympic Discovery Trail - Adventure Route
The 25-mile "Adventure Route" opened in summer 2008, connecting the Olympic Discovery Trail from the Elwha River west of Port Angeles to the north shore of Lake Crescent. It is a dirt trail suitable for mountain bikes, equestrians and hikers.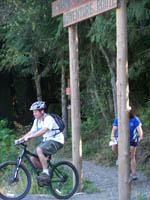 The trailhead is located off Highway 112 between Milepost (MP) 60 - 59. There is a large sign: "Olympic Discovery Trail - Adventure Route." Parking is available.
More info:
Olympic Discovery Trail
Adventure Route (pdf)
Sadie Creek
Fifteen miles of trail offer both lowland and rugged mountain terrain. The ride starts at the trailhead along Sadie Creek, at 600 ft. The elevation peaks at 2500 feet where the trail follows the ridge for several miles and then winds back to the trailhead.
The trailhead/road is located 8 miles west of Joyce. A DNR Discover Pass for your vehicle is required.
More info:
Sadie Creek Trail Map (DNR) (pdf)


Striped Peak
Salt Creek Recreational Area is another great place for families to ride bikes and the more adventurous can ride the trail to Striped Peak. Mountain bikers can access the trailhead from the Salt Creek Recreation Area or from the DNR trailhead near Freshwater Bay (Discover Pass required).
More info:
Clallam County Parks Salt Creek Recration Area and Striped Peak

Road Biking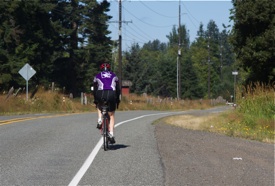 Bicycling and bicycle touring are very popular on the east end of Highway 112, but bicycling west of the town of Joyce is discouraged because of the narrowness of the road and lack of good shoulder in some areas.
Located at the intersection of Highway 101 (just 5 miles west of Port Angeles) and Highway 112, is a park and ride where many bicyclists meet to ride the "Crescent Beach Loop (approx 20 miles) or the "Piedmont Loop (approx 40 miles)."
Crescent Beach Loop
From the Park and Ride, bicycle west on Highway 112 to Camp Hayden Road and turn right. Continue on Camp Hayden Road to Salt Creek Recreation Area and continue along Crescent Beach Road to the town of Joyce. From the town of Joyce (be sure to visit the Joyce General store for snacks and hydration), bicyclists and return to their vehicle riding east on Highway 112.
Piedmont Loop
Follow the route above, but instead of turning east from the town of Joyce, ride a half mile west to the Joyce Piedmont Road. Stay on the Joyce Piedmont road until you reach Lake Crescent. Ride along the lake for several miles until reaching Highway 101 where you will ride east (on good shoulder) back to your vehicle.
More info:
Olympic Peninsula Cycling